Jamco's Unique Construction
When it comes to choosing a trailer you'll be happy with for years to come, nothing beats an up-close and personal inspection of what each manufacturer has to offer. That's why Jamco makes a point of asking "Have you seen a Jamco?" Fact is, once you've looked at a Jamco, no other brand will compare.
As a reference point, let's start with how virtually all other trailers are constructed — the covered wagon design, in which a skin is fastened at key points around a frame. In comparison, a Jamco trailer begins with an aluminum "box" or frame, into which Jamco fits their unique SuperPlank™ all-aluminum floor with individually welded cross members every 4-1/2 inches. Each plank is placed into the "box" to interlock with the adjoining planks, all of which are joined with a continuous, full-length weld.
Jamco then fits their signature patented full-plank walls into vertical channels. A siliprene bonding agent is applied between each interlocking 2" x 6" double walled aluminum plank, and the plank wall is continuous welded to the entire frame.
However, words and pictures don't compare to actually seeing a Jamco. Come see the difference for yourself. Jump up and down on the floor. Take a look at the welds. Listen to the quiet yet firm click of a well-made door closing. Most of all, put yourself in the mind of your horses. Will I be comfortable in here? Will I have confidence in my footing and safety? Will I have plenty of fresh air to breathe? Will I have sufficient separation from my neighbors? Will it be quiet enough to rest? Will I stay warm and dry traveling down the highway? Because Jamco has engineered their trailers like no other manufacturer on earth, the answers to these questions is a resounding "yes."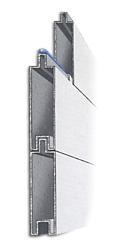 Superior engineering verses rivets and bolts: our walls and floors are constructed with interlocking planks that are unitized with continous welds for virtually one-piece strength.