Jamco's Attention to Details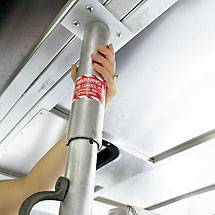 Available on many Jamcos is our unique QuickChange™ post system, which allows for day-to-day changes in divider configuration, and movement of rear-tack saddle racks. A simple spring-sleeve design is grasped and pulled down, which allows the post to be moved to another pre-drilled location.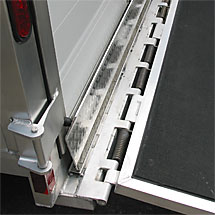 Jamco ramps feature stainless steel spring-loaded hinges the full width, for easy lifting and the ultimate in strength and stability. Unique to Jamco are our drop-down Diamond Plate hinge covers (top left of this photo) which dramatically enhance loading safety, plus allow for easier cleaning.
Some trailers have problems with leaky roofs, and many originate with roof vents. Our vents differ in that, instead of simply being inserted into the roof itself, they are framed out (recessed for safety) within the roof structure, then carefully finished out to prevent leaks.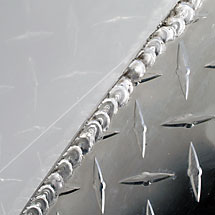 Instead of rivets, which are natural weak points in walls and floors, we unitize our trailers with continuous welds hand-crafted by master weldsmen, for a finish that is attractive, smooth, safe, and extraordinarily strong. Pictured here is the elegant union of our Diamond Plate aluminum fenders and tongue and groove plank wall.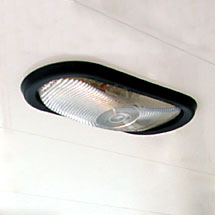 All Jamco lights are sealed-beam to prevent water intrusion and shock resistant to take a beating without breaking. The interior lights are recessed within our tongue-and-groove roof and all wiring concealed for safety, long-term durability, and beauty.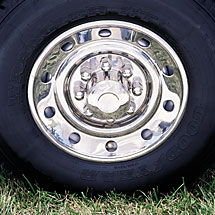 Classic Jamcos are enhanced with this beautiful stainless steel wheel cover that bolts securely onto the rim, and may only be removed with a special tool provided by Jamco. Stailess steel wheel covers are also available for the Legend series. Also important is what's behind this wheel: tandem Dexter Torflex™ axles for an exceptionally smooth ride.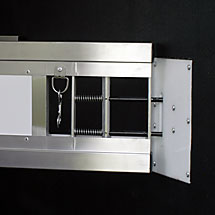 All Jamco slant loads feature a slam-latch which allow for easy movement of slant dividers for loading or unloading your horses quickly.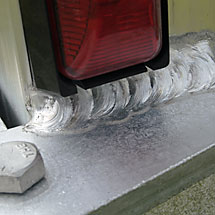 An example of a fine aluminum weld on a rear door hinge.